An ultra-compact and easy-to-handle modular solution that can be used in a number of volumetric combinations from 22 to 78 litres, combining the whole Plastimark® baskets range.
The MULTI structure is made in ultra-light metal with high-quality electrolytic zinc coating, in a variety of colour solutions.
It is equipped with Ø 80 mm pivoting wheels with anti-trace rubber tread and anti-dust protection.
The ergonomic polypropylene handle can be customised as regards colour and logo.
Combined with the baskets range, the MULTI structures make up the FURBO HYBRID SYSTEM.
Characteristics
Capacity: 600 mm
Width: 1.030 mm
Height: 590 mm
Nesting capacity: 90 mm
Weight: 4.80 kg
3 wheel Ø 80 mm (pivoting wheels)
Handle colour
● RAL 7043
● RAL 3020
● RAL 5015
● RAL 6018
Customisable in any colour on customer request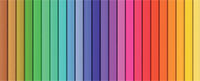 Load
1 truck
no. 616 items
1 x 20' containers
no. 280 items
1 x 40' containers
no. 560 items
Fill out the form to download the product details