SPEESY is the Plastimark® two-wheel shopping basket.
A very versatile solution, best suited to the most demanding needs of the sales outlet.
An ultra-light structure and the large telescopic central handle with a comfortable grip lend to it great practicality, easy manageability and lightness, the result of a careful planning and of the exclusive ergonomic design.
Its robust rubber wheels ensure a special noiselessness and comfortable use.
Characteristics
Capacity: 45 lt
Width: 530 mm
Height: 430 mm
Depth: 410 mm
Stacking capacity: 75 mm
Weight: 2,20 kg
Colours
Basket
● RAL 7043
● RAL 3020
● RAL 5015
● RAL 6005
● RAL 6018
Handle
● RAL 9005
Customisable in any colour on customer request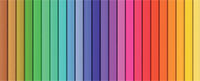 Load:
no. 150 items per pallet (120x110xh.227cm)
1 truck
no. 3.600 items
1 x 20' containers
no. 1.500 items
1 x 40' containers
no. 3.000 items
Fill out the form to download the product details